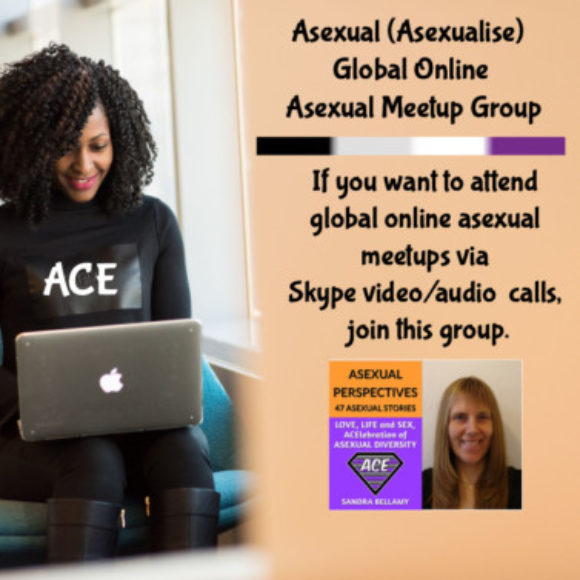 Public Group
active 3 months, 2 weeks ago
Hey, I started this forum group so I can post in here when the next Asexual (Asexualise) Virtual Online global meetup is. And anyone who is serious about attending online asexual meetups can subscribe and get the details of the next one, to attend.
My online meetups are in the form of a video call via a Skype group that is dedicated to this. So this means you would participate in a video/audio call.
Asexuality is a sexual orientation that is the lack of sexual attraction.
Please note, that although anyone can attend from around the globe, as I live in the UK, all times I post will be UK time. That means GMT or GMT+1 depending on what time of year it is.
These meetups are strictly for asexuals only – anyone on the asexual spectrum. Those who lack sexual attraction.
I am a heteroromantic asexual, and I found out I am asexual in 2014. That's the same year I joined this site.
These meetups are used for socialising. To speak to like-minded people. Not aimed at dating. But you may make some fab friends through them, and who knows, maybe even an asexual life partner, if that's what you are looking for. Not everyone who takes part in the online meetups are from this site (I run 5 asexual Facebook groups), and some of them are already in a committed monogamous relationship and not looking for anyone else.
These online meetups are run by me, Sandra Bellamy, (Aka Asexualise). I am an Asexuality Coach, Asexual Author, Asexual Speaker, Asexual Blogger, And Asexual Vlogger.
As I do a lot of work, the meetups are at different times, days, and dates, depending on other commitments I have. So they aren't at a set time each week, and they aren't a set day, and they are not every week. Sometimes not even every month. So whenever you see one, take advantage of the opportunity to connect with other asexuals.
If you want to attend one of these meetups, as places are limited, you need to PM me or email me, to be added to the list of attendees at [email protected] and put the day, date and time, in your diary/calendar, so you don't forget it. If you can't make the meetup for some reason, please let me know this, so I can cross you off the list and someone else can have your place.
Please note, that currently these meetups are done via an Asexualise Skype group, so you will need to set up and install a Skype account, if you don't already have one. If that ever changes I will let you know, in the posts below.
We are limited in the number of attendees, so this is why you need to contact me to reserve your spot, as people who are added to my list will get priority and I can remove anyone else from the call, if we go over our limit, and you have not told me in advance you are coming.
Also, in order to keep the Asexualise group a safe space for asexuals and not have sexuals gatecrash, I need you to let me know how you found out about the meetup (Asexualitic) and where you fall on the asexual spectrum.
The online meetup is a safe place where we can hang out together and share our thoughts, hobbies, interests, life passions, and just generally have an ACE time.
All asexuals are welcome in this group who want to attend the group video calls – this is not a general chat group, this is for asexuals who are serious about wanting to virtually meet up with other asexuals. Bullying of any kind, will not be tolerated, and you will be removed from the group immediately without warning, either by me or the other admin, if you are found to be doing this.
All attendees should attend the meetup in a confidential, detraction free environment, and you have to mute you mic, whenever you are making a noise but not speaking, so as not to distract the other attendees. Typing on a keyboard can usually be heard by the whole group, and drowns out the person speaking. If you mute your mic, you can still hear the whole conversation, and you can un-mute it when you have finished.
You can find my asexual blog at http://www.asexualise.com
And my chat show for asexuals is at http://www.youtube.com.asexualisemyasexuallife I have had this channel for 5 years now, since 2015. I specialise in coaching and educating about asexuality; dating, and forming relationships (including friendships). I also do no sex movie reviews. I include all types of asexuals on the asexual spectrum, from those who lack sexual attraction and completely sex repulsed. To those on the more Grey end of the asexual spectrum and who are sex positive. I include both romantic and aromantic asexuals. Those who want relationships, and those who don't.
In 2017 I published a book call Asexual Perspectives 47 Asexual Stories, Love, Life and Sex, ACElebration Of Asexual Diversity. What's good about this book is that it does not just give you text book definitions of asexuality, but it shows you what asexuality is like, through real-life contexts, in the form of 47 real life asexual stories, with questions and answers, all about asexuality. In relation to love, life, and sex. It busted through a lot of myths and stereotypes about asexuality and answers pretty much every question you could think of, when you are first discovering about asexuality and you want to know more. It also is to celebrate the asexual spectrum and our differences within it. Here is the link https://amzn.to/36hfQ3f
In July 2018, I was a speaker at the UK Asexuality Conference in London and I founded and launched the World's First Online Training Centre And School For Asexuals And Asexuality. And you can get a FREE Asexuality Basics For Beginners course here http://www.asexualiseacademy.com
If you have any questions about the meetups, or anything else, please PM me or email me, [email protected], and look for the posts below, for the individual meetup details, including the link to the Asexualise Asexual Virtual Online Meetup group.
Asexual Virtual Online Global Meetup Group – By Asexual Author And Asexuality Coach Sandra Bellamy A
Viewing 2 topics - 1 through 2 (of 2 total)
You must be logged in to create new topics.
Membership required to post topics or reply in the forums...
Become Member